Favorite walks?
I love the coastal path through New Polzeath, Pentire Point, and along miles of stunning coastline. I also love the inland walk from Helford to Manaccan – ending up at the excellent pub, The New Inn.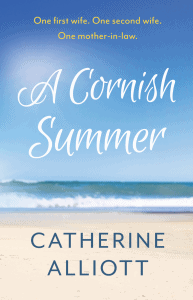 Favorite beaches?
Porthchapel from my childhood, Rock Beach (Brea beach) from my children's. It took me a while to adapt from the Cornwall of my youth to the Cornwall of theirs, but each are equally beautiful. I also have a very soft spot for the Helford River which was the only part of Cornwall my husband contributed – having holidayed exotically in his youth in Tuscany – but his aunt lived there and we had many happy holidays in her cottage by the creek, before the children came along.
Favorite eateries?
Steak and chips at the St Kew Inn. Crab Sandwiches on the wall outside the pub at Port Gaverne. Lobster and chips at the Shipwright Arms, Helford. I remember it being a huge treat to be taken to the Lobster Pot in Mousehole as a child. Is it still there I wonder…?
Favorite views?
The view across the estuary from Brae beach is hard to beat. I'm particularly fond of estuaries and secret creeks and if I find a magical house on a river I always imagine what it would be like to live there. Thus a story might evolve…
A favorite historical story about Cornwall?
When we were young, my Uncle Ron would tell us about a ghostly ship that sailed into the bay at Porthcurno when the evening mist came down. Apparently, if you saw the ship you'd have years of bad luck and as we drove away after tea time, I remember it being the only beach I was secretly pleased to leave.
What sentence sums up Cornwall for you?
A mystical, mythical, legendary, storytelling, magical place. My husband, on the other hand, likes the beer and the exchange rate.
Reprint from Great British Life Magazine